Mobile Christian library spreads the word in Morecambe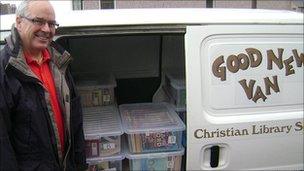 As some public libraries worry about their immediate future, a Christian library based in Morecambe is looking to extend its service countywide.
The Good News Trust is a mobile service which travels around north Lancashire with crates of Christian books that borrowers can take away free of charge.
The trust carries around 1,000 books to coffee mornings and church events, with a further 1,500 books held in storage.
"I do it for Christ," said Peter Normington, a Director of the trust.
"I do it to spread his word and to help Christians who want to see a different side to Christianity."
Peter and his team are out on most days in north Lancashire. There are eight of them who share the duties driving a small white transit van to privately held events and drop-in centres, working on a monthly cycle.
They are now looking to expand throughout the county.
The Good News Trust is well represented in the south of England. It started 30 years ago in Stanford.
The north Lancashire branch, which is based in Morecambe, was born out of a similar scheme in Grange over Sands, the next one south is in North Wales.
"We are looking to expand everywhere, but particularly in Lancashire. We did try one in Blackpool, but it stopped and we are hopeful it will start again."
Peter remains optimistic they will expand and urges any like-minded people in Lancashire to get in touch with The Good News Trust.
He was speaking to me at a busy coffee morning being held at the Sefton Road United Reformed Church in Morecambe.
On the previous day, the van had been invited to a coffee morning at a bungalow in Morecambe where about a dozen neighbours had gathered for a brew and a book.
The Good News team have built up a following of 300 borrowers like Edna from Heysham who I met at Sefton Road. She barely stopped thumbing her way through the titles to tell me: "I generally have a look through to see if anything catches my eye."
Edna appreciates the service and the people who bring her free books. "I think it's fantastic. I admire them for going around and hanging around. People come and look but they don't always take a book, but at least they know it's there if they want it."
Jackie Corbett, the secretary at Sefton Road URC, told me Edna is not alone in her appreciation of the mobile library. She said: "They come quite a lot to us and people seem to like it. They help us to keep our membership and keep our heads above water."
There's a junior section too. Primary school youngster Nathan from Morecambe showed me his selection, a children's book about John the Baptist, and said: "I've been looking at good books with good pictures."
With a smile he added: "I've also chosen a scary one!"
Peter Normington told me the popular titles are autobiographies and what he describes as "Christian fiction." When I asked what that meant, Peter explained "good stories".
Pressing him I enquired if he meant books with "nothing mucky in them."
"Yes, but it's more than that. It will be a good wholesome story and somewhere in there will be a Christian message."
Peter's Christian spirit was epitomised when I asked him "What happens if the readers fail to return their books?"
"In a way we don't mind," he said. "If a book doesn't get returned we know it's out there somewhere and that someone will be picking it up and glancing through it. And that's what it's all about."
Joe Wilson presents the faith programme on BBC Radio Lancashire from 6am each Sunday.
Related Internet Links
The BBC is not responsible for the content of external sites.