Lancashire councillor steps down in dog waste bag row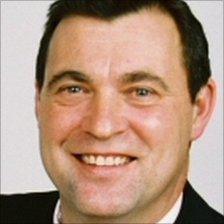 A Lancashire councillor has stepped down from his cabinet duties after a member of the public complained he had thrown a dog waste bag at her.
The incident happened at a public meeting at Poulton's Civic Centre, where Wyre Borough Council's dog control orders were being discussed.
Councillor Paul Moon allegedly threw the bag - which did not contain faeces - at former dog breeder Irene Horner.
Wyre council said Mr Moon recognised it was an "error of judgement".
He has since resigned from his role as Street Scene Coordinator, but remains a local councillor for Preesall.
The controversial dog orders being discussed include making it an offence to take more than four dogs on to George Playing Fields and Stannah Park in Thornton Cleveleys and playing areas at the Civic Centre and Cottam Hall in Poulton.
Dogs will also not be allowed in any children's play areas, cemeteries, memorial parks or sporting areas in Wyre.
Mrs Horner said: "It was bread rolled up into a ball to feel like dog faeces. Why he took it to the meeting I don't know. He said he was going to have it as an illustration but anybody knows what a poo bag looks like."
She added: "They are banning dogs from certain areas and they are banning them from being off the lead.
"A dog needs to have a run, also they need to socialise with other dogs or that is when you start having problems with dogs."
Councillor Peter Gibson, Leader of Wyre Borough Council, said: "Councillor Moon has taken the difficult decision to withdraw from his official Cabinet duties following a complaint recently received from a member of the public about his conduct during a discussion on dog control orders at a recent Cabinet Meeting.
"He has been quick to take personal responsibility for his actions as he recognises that this was an error of judgement on his part.
"So much so, he has already made a personal apology to the member of the public and a wider public apology to everyone who attended the meeting, but he feels that it is in the best interests of the council to resign."
The public meeting took place on 31 January.
Related Internet Links
The BBC is not responsible for the content of external sites.