Lancaster's indoor market could move to museum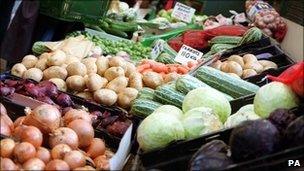 Lancaster's historic indoor market could be moved to the city museum, if proposals are given the go-ahead.
Lancaster City Council said it wanted maintain the market, which has 29 stalls, but it had a "huge deficit".
Councillors are meeting on Tuesday, to discuss a number of options including extending Lancaster City Museum to include the market.
Members will be asked to agree to further investigations to see if the idea is feasible.
Councillor Jon Barry, Lancaster City Council cabinet member with responsibility for markets, said: "I remain committed to an indoor market in Lancaster.
"If using part of the museum site proved to be feasible in terms of both improving museum facilities and creating a more vibrant market which adds to the heritage value of the city, then I think this could be an excellent solution.
"Whilst the details are being worked out, we need to introduce a number of measures to improve the existing market, that doesn't cost a lot of money.
"I want these to be put into action as soon as possible. It is important that we get more traders into the market to create jobs and to reduce the council's costs on the building."
Graham Alston, chair of the Market Tenants' Association, said: "It is an option that the traders are prepared to look at as long as it benefits us and the museum.
"As a location you can't get better than the centre of town."
If the market is moved to the museum, the current Common Garden Street shopping venue would be converted and rented out to other retailers.
The council said this would help reduce market and museum's deficits.
Related Internet Links
The BBC is not responsible for the content of external sites.