Police figures reveal reduction in Lancashire crime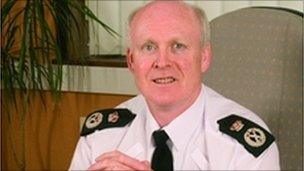 Crime in Lancashire fell by 3.8% during the period between April 2010 and January, according to latest force figures.
A breakdown of the data revealed that vehicle crime had fallen the most with a 7.4% reduction and violent crime the least with a 0.5% drop.
Assaults reduced by 4.6%, robbery by 2.4% and burglary fell by 0.9%.
The figures coincided with Home Office approval of Chief Constable Steve Finnigan's contract extension.
Mr Finnigan, who was appointed in March 2007, will remain in post for at least another three years overseeing cuts of £50m.
Councillor Malcolm Doherty, chairman of Lancashire Police Authority, said: "The next four years will bring considerable challenges financially and we must be realistic in our expectations for service progression while faced with fewer resources.
"We are pleased that the home secretary agrees with us and has approved the extension of Mr Finnigan's contract. We believe this will bring stability to the force in a period of upheaval.
"Residents in Lancashire can be assured the authority and the constabulary have their best interests in mind and remain committed to protecting vulnerable people while also maintaining the quality of service they have come to expect."
The latest figures show a slowing down in crime reduction when compared to Home office statistics for October 2009 to September 2010, when overall crime in Lancashire fell by 8.6%.
Related Internet Links
The BBC is not responsible for the content of external sites.