Blackpool cancer patient to get 'life-saving' surgery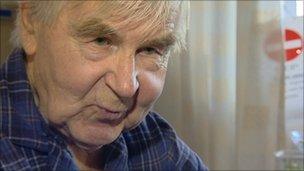 The family of an 83-year-old cancer patient initially denied heart surgery said they were "over the moon" he could now have an operation.
The Primary Care Trust NHS Blackpool had originally refused John Luczynski the £25,000 procedure, which is not routinely funded by the NHS.
On appeal, the trust has agreed to fund Mr Luczynski's surgery.
He needs transcatheter aortic valve implantation (TAVI) to strengthen his heart before treatment for a tumour.
Mr Luczynski, who has bowel cancer, has spent four months in hospital waiting for the trust to consider him for TAVI.
His granddaughter Shirley Banks said the decision had come as a great relief to the family.
"It's absolutely fantastic news for the entire family," she said.
"He just can't wait to get home to my grandma and his little dog who he misses."
His cardiologist, David Roberts, said his condition had worsened in the wait for the trust's decision.
However, he said it was now "all systems go" for the operation, which is scheduled for 28 February.
TAVI is a new treatment, pioneered at Blackpool's Victoria Hospital, designed for patients that are too high risk for conventional open heart surgery.
It is a far less invasive procedure for patients with other complications, like Mr Luczynski.
Mr Roberts believes funding should be more readily available for suitable patients.
He said: "We have [an] evidence base that this treatment saves a significant amount of lives.
"There has been a very large trial done which shows for every single patient that is high risk, you will save one in three or four lives and improve the quality of lives dramatically of patients.
"There have been very few treatments in any aspects of medicine recently which show such dramatic benefits."
A spokeswoman for NHS Blackpool confirmed Mr Luczynski was going to have the procedure but due to patient confidentiality they would not comment on any further.
Related Internet Links
The BBC is not responsible for the content of external sites.