Heart plea by family of dead teenage footballer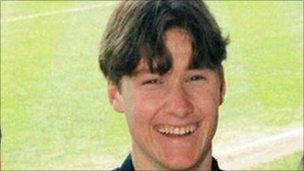 The family of a talented 16-year-old footballer from Lancashire who died from a heart attack are urging young people to get their hearts tested.
John Marshall, from Ormskirk, played for England schoolboys and died the day before he was due to join Everton.
His parents and sister made the plea at a cardiac screening session at Edge Hill University.
John suffered from Arrhythmogenic Right Ventricular Cardiomyopathy when he died in 1995.
His sister Hayley Marshall said: "He was classed as one of the fittest in the country, and he was an elite athlete.
"He passed away suddenly and it came as a big shock to us all because he was so fit.
"Twelve people a week die of these cardiomyopathies. We're here encouraging people between the ages of 14 and 35 to go and get screened and just be aware of it, so it won't happen to them," she added.
The screening session for this heart condition was held in partnership with the leading heart charity for young people, Cardiac Risk in the Young (CRY).
The charity said that 80% of apparently healthy 14 to 35-year-olds who die from young sudden cardiac death will have shown no previous sign of heart defects.
It said sudden death syndrome killed hundreds of young people - many of whom were involved in sport. The charity said sport did not cause the problem, but it could exacerbate an existing undiagnosed condition and the high risk group is the young.
Former Leeds United player Terry Yorath's 15-year-old son Daniel died of the condition in 1992 while playing football, as did Manchester City's 28-year-old midfielder Marc Vivien Foe while playing for Cameroon eight years ago .
Related Internet Links
The BBC is not responsible for the content of external sites.