Firefighters tackle toxic cloud in Clitheroe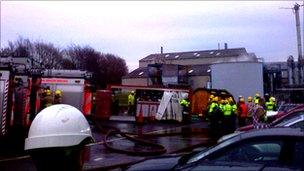 Fifty firefighters have dealt with a cloud of toxic gas at an industrial estate in east Lancashire.
The leak took place at Johnson Matthey Catalysts on the Pimlico Industrial Estate in Clitheroe at about 1130 GMT.
Firefighters in protective suits and breathing apparatus stopped the leak but not before a cloud of nitric acid was released.
The gas did not drift away from the scene and firefighters diluted it with water spray.
Lancashire Fire Service said: "There have been no injuries to site personnel, emergency service staff or members of the public.
"The air quality around the site is being constantly monitored and it has not been necessary to close roads or evacuate any premises in the vicinity of the site."