Mock hijack exercise tests 999 crews in Lancashire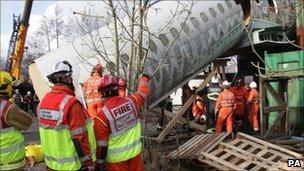 About 150 firefighters from north-west England and Northern Ireland have been taking part in an exercise simulating a terrorist attack.
The mock incident was held at Lancashire Fire Service's training centre in Washington Hall, Euxton.
The scenario involved a simulated hijack, air crash and radiation leak.
Teams from Greater Manchester, Isle of Man, Lancashire, Merseyside and Northern Ireland took part as well as firefighters from BAE and Sellafield.
Many of those taking part in the exercise were unaware of the scale of the disaster until it began at 0800 GMT.
A specially-built 80ft-long aircraft fuselage and tail section were used as part of the operation, called Exercise Dakota.
Crews were told the hijacked aircraft, which went on to crash, had been carrying radioactive material.
A spokesman for Lancashire Fire and Rescue Service said the exercise had been "successful, highly worthwhile and challenging".
Speaking before the exercise began, Lancashire's Chief Fire Officer Peter Holland said: "Though much of our preparation and training is for incidents on a smaller scale, it is necessary from time to time to test our response capability for major incidents and that is the focus for Exercise Dakota, which centres on a large-scale emergency brought about as a result of a terrorist attack.
"By inviting other Fire and Rescue Service teams and the emergency response crews of other agencies and organisations to participate, such as would be the case with a real incident of that nature, realism and more importantly the validity of the exercise as a rigorous test of our strategies and resources has been assured."
Related Internet Links
The BBC is not responsible for the content of external sites.