Self-hypnosis for East Lancashire mothers-to-be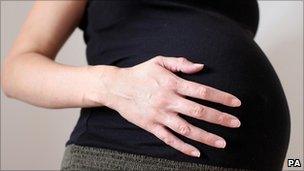 Expectant mothers are to be taught self-hypnosis to assess whether it can reduce the pain of childbirth.
Researchers from the University of Central Lancashire will be working with 800 mothers-to-be in Blackburn and Burnley in a pioneering two-year study.
Professor Soo Downe, a specialist in midwifery at UCLAN, said the idea for the project had come from local women.
"The only other study was in Australia and New Zealand," she said.
"There is evidence that hypnosis can reduce anxiety and this reduction can lessen pain," said Professor Downe, who added it had been used for conditions including as Irritable Bowel Syndrome (IBS).
Women who are between 30 to 35 weeks pregnant will be taught self-hypnosis techniques which will be offered in addition to the usual level of care they receive.
"There was a study in Australia and New Zealand which used women who were further on in their pregnancies but we've been advised it is better to start earlier," said the professor.
The study, which is being conducted in tandem with the East Lancashire Hospitals NHS Trust, has received funding from the NHS's National Institute for Health Research (NIHR).
UCLAN is leading the project but working in conjunction with the Universities of Lancaster, Manchester, Sheffield and York.
Related Internet Links
The BBC is not responsible for the content of external sites.