Stranded Blackpool stroke victim dies in Thai hospital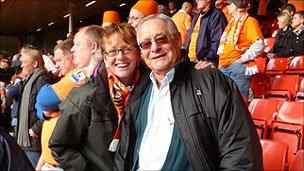 A stroke victim stranded in a Thai hospital due to an insurance problem has died, the Foreign and Commonwealth Office has confirmed.
Philip Blakemore, 76, from Blackpool, suffered two strokes while on holiday and doctors had told his family he was unlikely to recover.
An FCO spokesman confirmed that Mr Blakemore died in Thailand on Tuesday.
An insurance application form error meant his medical costs, which ran into thousands of pounds, were not covered.
The FCO said it had been in contact with the family to see what support it could offer at this "distressing time".
Mr Blakemore was on an annual three-month holiday in Thailand with his wife Vera when he was taken ill in January.
His family had faced a £65,000 bill to fly him home, in addition to his hospital bills.
In an insurance form Mr Blakeman completed with his wife before travelling to Thailand, he failed to mention that he suffered from angina.
The insurance firm Staysure, said that if an accurate disclosure of medical details had been made at the time of policy purchase, Mr Blakemore would have incurred a premium 75 times greater than the one he paid.
Related Internet Links
The BBC is not responsible for the content of external sites.