Officers seize illegal taxidermy in Burnley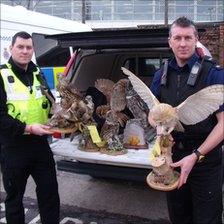 Five stuffed birds of prey were seized by police in Lancashire as part of an investigation into illegal taxidermy.
Two tawny owls, a buzzard, goshawk and barn owl - which all need a special certificate to be sold legally - were found at a house in Burnley.
It followed an investigation by the force's wildlife unit into the online sale of illegal taxidermy.
A 20-year-old man arrested at the property was cautioned for offering to sell the stuffed birds.
Lancashire Police said he also had his collection confiscated.
Pc Ian Thompson, Pennine Division's wildlife officer, said: "We will take action against anyone we suspect to be trading illegally and flouting the laws which are in place to protect vulnerable wildlife.
"My advice to people who wish to buy and sell taxidermy is to check that each item has the correct paperwork with it before the sale takes place."
Further advice about buying taxidermy is available from the Department for Environment, Food and Rural Affairs (Defra).
Officers from Defra and the National Wildlife Crime Unit (NWCU) helped police identify the protected species.
Andy McWilliam, a NWCU investigator, said: "Permits are there to control trade and ultimately to conserve vulnerable wildlife - without these strict controls some species could become extinct.
"We are committed to working with the police to enforce this vital legislation."
Related Internet Links
The BBC is not responsible for the content of external sites.