Parents of killed Tracey Bonnell relieved at parole date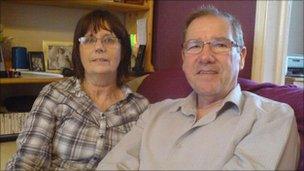 The family of a Lancaster woman murdered by her husband in 1997 have spoken of their relief her killer will not be released for at least a year.
David Bonnell has served 12 years of a life sentence for beating Tracey Bonnell to death with a piece of wood.
Mrs Bonnell's parents feared he would be freed on licence later this year.
His next parole hearing is not until March 2012, with no guarantee of a release, although they are still worried he will end up living nearby.
Mrs Bonnell's mother Marie West said: "It's good news; at least we know now and don't have to worry about it for another 12 months.
"It's a relief because I've been in a state of panic about it as I thought he was getting out this year.
"At least we have some breathing space."
The Ministry of Justice confirmed Bonnell will be excluded from Lancashire, where the family of his victim live, when he is eligible for release.
However, the family are still concerned about coming into contact with their daughter's murderer when he is out of prison.
Mrs West said: "We live in Bolton-le-Sands which is just a few miles from the Cumbria and Yorkshire border. It would be far better if he was excluded from an area around here rather than Lancashire.
"We know he is going to get out; there is nothing we can do about that but we want to be as far away from him as possible."
Mrs Bonnell's father Ken West is a paramedic.
He was called to the scene of his daughter's murder and they now worry he will one day have to tend to Bonnell.
"The last thing we want is for Ken to be faced with treating him."
She added: "We want to get on with our lives and not worry about seeing him, not even thinking about him."
Bonnell struck his 23-year-old wife 27 times after she told him to leave their home in Skerton.
At first, he tried to make it look like a robbery but he later pleaded guilty to murder.
Related Internet Links
The BBC is not responsible for the content of external sites.