Jack Straw regrets 'easy meat' wording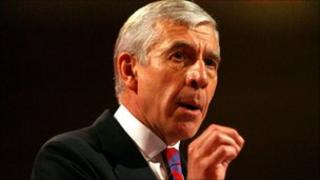 Former Foreign Secretary Jack Straw has admitted he regrets his choice of words when he said some Pakistani men saw white girls as "easy meat".
The Labour MP for Blackburn spoke out last month, after two Asian men who had abused girls in Derby were given indeterminate jail terms.
Speaking at a meeting in the town on Tuesday evening, he refused to apologise for his remarks.
But he said he was sorry for "the offence people feel I have caused".
'Taxi drivers abused'
The meeting was called by members of the Pakistani community, who wanted an apology from Mr Straw, arguing he had stigmatised the community.
They said taxi drivers had been racially abused and a school teacher had been called a groomer.
Speaking to Newsnight in January, Mr Straw said most sexual offenders were white men.
However, he said there was a "specific problem" in some areas, including in his constituency, where men of Pakistani heritage "target vulnerable white girls".
"They see these young women, white girls who are vulnerable, some of them in care... who they think are easy meat," Mr Straw remarked.
He said the Pakistani community needed to think about why the abuse was happening and called for people to be more open about the problem.
Speaking to the BBC after Tuesday's meeting, Mr Straw said: "As I said to Labour councillors and friends, I was very sorry about the offence that people felt that I had caused and I also regretted the choice of language I had used. I hope people found that acceptable.
"We had a separate debate... about whether I had demonised the community. I don't, I'm afraid, accept that at all.
"I worked very hard over a great many years, far from trying to demonise the community, but to understand the Asian heritage communities and to represent them.
"I think I have succeeded in both even though very, very occasionally I may say things which are controversial."