Lancashire council to spend £5m repairing potholes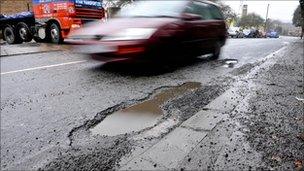 Maintaining roads will help encourage the private sector to invest in Lancashire, the county councillor for highways has said.
Tory-led Lancashire County Council plans to spend £5m on potholes in 2011-12, compared to £5.1m in 2010-11 and £5.4m in 2009-10, BBC research shows.
Councillor Tim Ashton said keeping roads maintained helped people get to work, shops and tourist destinations.
The Labour group said the money could be better spent during budget cuts.
Lancashire County Council has to find savings of £179m over the next three years but it is increasing its overall highways budget, of which repairing potholes is a part.
Mr Ashton said he would rather invest in road maintenance than pay out on repairing cars which have been damaged by potholes.
Councillor Jennifer Mein, leader of the Labour group, said: "I find it appalling for the same level of investment to carry on in roads when children social care and adult social care is taking massive and savage cuts.
"By the time the investment has arrived here, there are a lot of people in this county whose quality of life will have been largely diminished by the cuts."
But Mr Ashton said residents questioned in the council's Life in Lancashire survey had ranked maintaining roads fourth out of 19 areas.
He added: "Our top priority is making sure we increase the number of jobs in the private sector in Lancashire.
"There are 40,000 public sector jobs in Lancashire. Even if there is a 20% cut, 8,000 people will not be working. They need to find jobs somehow.
"We believe if the highway network is fit for purpose it will help get people to work.
"And if you want people to visit the area you need to make sure the road network is suitable."
The council said it repaired 95% of serious potholes - those which are 4cm deep in the road and 2cm deep on the pavement - within 24 hours.
It has repaired 20,000 potholes in the past year.