Royal Lancaster Infirmary 'sorry' for admin issues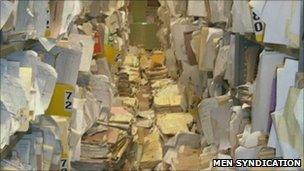 A hospital trust in Lancashire has apologised for its poor administration after confidential files were found scattered on the floor.
Some patients at the Royal Lancaster Infirmary say there have been problems with administration for several years.
One, Catherine Bleasdale, said she had had a battle with her records going astray since she became ill in 2005.
The hospital trust said the problems were due to an increased demand on health services.
Mrs Bleasdale, a former nurse from Over Kellet near Lancaster, said notification of appointments had been sent to the wrong address and she had been issued the wrong medication.
"The standard of care has been really really good. Everybody is doing their job to the best of their ability... but the administration isn't supporting it," she said.
Steve Vaughan, head of operations and performance, said: "We have over one million patient records across the trust.
"It is systematic of the growth in demand for health services.
"We weren't quick enough in reacting to the pressures that were growing.
"We sincerely apologise for that and we have a programme in place to continue with the expansion which will continue to deal with these issues on an ongoing basis."
Related Internet Links
The BBC is not responsible for the content of external sites.