Leyland's Tom Bidwell misses out on Oscar for Wish 143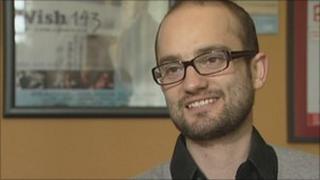 A film about a Lancashire writer's teenage battle with cancer lost out on an Oscar for best short film.
Tom Bidwell was up for an Oscar in the short film category for Wish 143, the story of a 15-year-old cancer patient who is granted one wish before he dies.
The film is based on his personal experiences when he suffered from non-Hodgkins lymphoma as a teenager.
Mr Bidwell, who was celebrating his birthday at the ceremony, lost out to Luke Matheny's God of Love.
Mr Bidwell was originally commissioned to write Wish 143 for a play on BBC Radio 4 when he was at the BBC Writers' Academy in 2008-9.
He also wrote for Doctors, EastEnders, Casualty and Holby City while he was there.
The film, which Mr Bidwell described as "a dark comedy drama", cost £15,000 to make.