Fifth of building sites in East Lancashire 'unsafe'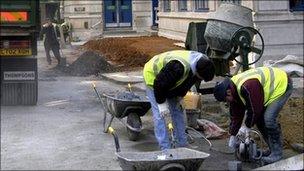 Nearly one in five building sites in East Lancashire has been ordered stop work on health and safety grounds.
Health and Safety Executive (HSE) inspectors made 38 unannounced visits to sites in Blackburn, Rossendale and Hyndburn.
Seven failed to meet minimum standards while six site were told to stop unsafe work being carried out at height.
The inspections were ordered after the deaths of eight workers in the North West between April 2009 and March 2010.
Allen Shute, HSE Inspector for Construction described the number of sites potentially putting lives at risk as a "sobering statistic".
The safety of workers must be a top priority and we will not hesitate to take action when necessary," he said.
'Disappointing and worrying'
As part of the two-day initiative, HSE inspectors turned up at smaller sites across East Lancashire where refurbishment or repair work was being carried out.
Mr Shute added that the main aim was to ensure that work at height was being managed safely.
"Falls from height are one of the main causes of workplace deaths in the UK so it's both disappointing and worrying that the majority of the prohibition notices we issued were because companies were found not to be taking this risk seriously enough," added Mr Shute.
The HSE said it was also checking that asbestos surveys were being carried out before refurbishment work started.
A spokesman said that many workers believed, wrongly, that because asbestos had been banned as a building material, it was no longer a threat.
Spot checks will continue to be carried out at sites across the region until Friday 11 March.
Related Internet Links
The BBC is not responsible for the content of external sites.