Year of the Bible is celebrated at Blackburn Cathedral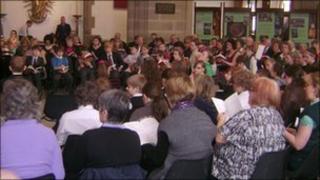 Over 200 choristers from around Lancashire gathered at Blackburn Cathedral to present a new work to celebrate The Year of the Bible.
"The Word Revealed" was specially written to commemorate the 400th anniversary of the King James Bible by Pontefract-born composer Philip Wilby.
The work had been adopted by the Royal School of Church Music Festival which takes place annually at the cathedral.
A choir of all ages performed the piece before the Bishop of Blackburn.
Richard Tanner, Director of Music at Blackburn Cathedral told me: "The Royal School of Church Music, who sponsor this event, have specially commissioned The Word Revealed to be sung at festivals throughout the year. The book has only just been published and so this could quite possibly be the first time The Word Revealed has been publically heard."
One group of choristers amongst the 200 had made the trip from Holy Trinity, Tarleton and St. Mary the Virgin in Rufford. One of them, Angelette Abraham, was delighted with the cross section of ages that were about to launch into song. "It's great to see the children enjoying it and giggling! It has to be fun or people wouldn't carry on."
Clocked up
And Lancashire has a history of choristers who have certainly carried on! Two specially invited guests to the festival, Harry Dickinson from Hoghton and Eric Dunne from Church, have clocked up a massive 140 years service between them. They were being recognised that day with long service awards from the Royal School of Church Music.
Amongst the West Lancashire group, Jane Valentine is in her 50th year singing in church choirs. "It's something I have always done," she told me.
Her friend Sue Wells is almost a novice with a mere 40 years! "I love the words. It is just lovely singing with other people and being in harmony with them."
Richard Tanner told me this festival is an annual event he looks forward to. "It's great fun. Basically singers from all over the diocese, which means from all over Lancashire, come and sing in the cathedral.
"We hand out awards for people who have done well in the diocese or served for a long time in their choirs. The Dean, the Archdeacon and the Bishop all attend and it's a very happy day."
Sacred space
For choristers around the county it is also a chance to sing in the splendid Blackburn Cathedral with its unique sound. There was a consensus of opinion from the West Lancashire group that it was something special to sing in such a sacred space. "It's very echoey, but it's great," Jane told me.
Ian Wells from Tarleton agreed. "I always enjoy singing here with a large group because you can just be part of it. You don't have to lead as you do in our regular worship."
Angelette Abraham said: "It's spine chilling to sing with such a big choir."
With a smile Ian added: "To quote Saint Augustine 'to sing is to pray twice'."
As I said goodbye to the group, they set off for their lunch and it was in no way a comment on the food that I was left with the impression that the real mouth-watering prospect was the forthcoming afternoon performance in the magnificence of Blackburn Cathedral.
Joe Wilson presents the faith programme on BBC Radio Lancashire from 6am each Sunday.