Ladyewell Shrine 'restored by late summer' after fire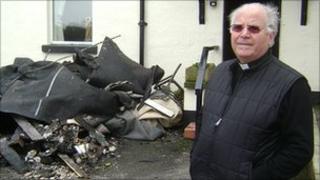 The chapel beside the 11th Century Ladyewell Shrine in Preston, which has been damaged by fire, should be restored by late summer.
Heat and smoke from the fire, which started in a downstairs shop, also severely damaged part of the chapel.
Loss adjusters are still inspecting the affects of the fire and they believe repairs will cost tens of thousands of pounds.
The actual shrine, religious artefacts and outbuildings all escaped damage.
Standing beside a pile of charred remains that lay on the driveway outside Ladyewell House, Father Tom Hoole from the shrine told BBC Radio Lancashire: "These are some of the books from the repository shop where the fire started.
"There's also some burnt floorboards from the chapel above the shop and if you look up at the roof you can see the black marks where the smoke has damaged the rafters."
Father Tom raised the alarm when he looked out from the nearby St. Mary's Church on Fernyhalgh Lane. "About ten past eight in the morning I was preparing for mass and I looked out across the fields to Ladyewell House.
Pilgrims
"I saw smoke coming from the roof and so I drove straight up there. When I arrived there was smoke coming from every area of the roof.
"I immediately rang for the fire brigade and, every credit to them, they were there in ten minutes. My heart was in my mouth."
The fire fighters quickly put out the fire and rescued many religious artefacts from the charred building which suffered smoke and heat damage to part of the building.
Ladyewell House dates back to 1685 and, along with the shrine to the Blessed Mary, attracts thousands of pilgrims each year.
Father Tom is anxious to make it clear the fire does not mean Ladyewell Shrine will remain closed. "A quarter of the house needs major repair, but I'm going to install the other three quarters of the house with temporary electrics so that we can welcome the pilgrims who will still want to come to us to pray."
Father Tom says it will be around three months before the whole of Ladyewell will be open again.
When it does, he hopes to make a notable day of it. "I would love to think that on the 15 August we will have a great celebration which is the feast day of The Assumption of Our Blessed Lady.
"In 1723, here at Ladyewell, there was a gathering and an open-air mass. It was very risky to hold the mass at that time, but a thousand people were baptised and confirmed. So it's a historic day, we will be up and running by then and we too will have a great celebration."
Joe Wilson presents the faith programme on BBC Radio Lancashire from 6am each Sunday.