Blackpool promenade closed to traffic for regeneration work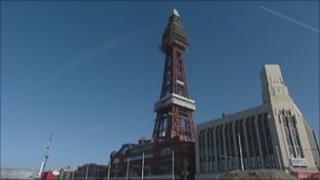 Part of Blackpool Promenade has been closed to traffic until mid-June, while regeneration work is carried out.
The stretch of the famous prom is shut in front of the tower between Adelaide Street West and Talbot Square.
Work to spruce up the town includes improving walkways and building a new open-air events space, the Tower Festival Headland.
Diversions have been put in place but some local businesses have said the closure will cause chaos in the town.
The road was previously closed between Gynn Square and Chapel Street, but that has now reopened to southbound traffic.
'Ripping them off'
Traders have said the diversions are causing chaos and driving away customers.
Some taxi drivers are even handing out leaflets entitled "Don't Blame Us", apologising for delays and suggesting concerns are sent to Blackpool Council.
Driver Dave Palmer said he had had some complaints.
"We've been getting abuse, especially at night, from people who think we are ripping them off by taking them the long way round," he said.
John Donnellon, from Blackpool Council, said: "We understand there is a bit of stress and strain in all this, you can't do a project of this size without causing some disruption.
"We do believe that traffic is able to move OK and thought there might be slight disruption, but we don't believe it is of the scale that taxi drivers are saying."
The central seafront is undergoing a multimillion-pound makeover, with work to improve sea defences and tramways also being carried out.