Record numbers visit Blackpool in 2010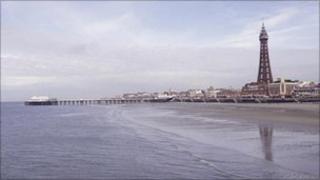 A record number of people visited Blackpool in 2010, according to new figures from a national survey.
Thirteen million visitors arrived in the resort and spent £1bn, compared to 10 million visitors in 2007.
Overnight stays also rose in 2010, particularly during the illuminations period from September to December, the council said.
Councillor Maxine Callow said it was "fantastic news" and a "sure sign" the local economy was improving.
The statistics were recorded using the national Omnibus survey, carried out by the Office for National Statistics.
'National acclaim'
Mrs Callow, the council's cabinet member for tourism and regeneration, said: "Over the last few years everyone has seen Blackpool grow into a really great place to visit.
"The regeneration work to the promenade has met with national acclaim.
"Hotels are improving the quality of their offer thanks to our accreditation scheme and our trading standards team has done some great work ensuring the businesses clean up their act."
She added: "We know there is a little pain with the closure of the promenade in this quietest time of the year, but it will be worth it when the promenade and tramway reopens as part of our final push to complete the sea front."