'No risk' taken at shale gas site in Lancashire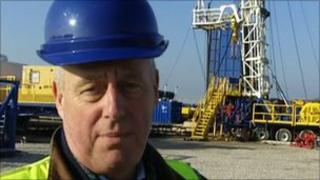 An MP has said he does not believe there are any unacceptable risks being taken at a site in Lancashire where a firm is drilling for shale gas.
Cuadrilla Resources has drilled on land near Kirkham and was due to start extracting gas, but the work was put on hold while an inquiry was carried out.
Tim Yeo, of the Energy and Climate Change Committee in charge of the inquiry, visited the site on Thursday.
He said the way gas would be extracted would be carefully monitored.
The gas is held in a vast bed of rock called the Bowland Shale which runs from Clitheroe to Blackpool.
The firm has sunk a test well more than 9,000ft (2,743m) down into the shale and was set to start releasing the gas.
The gas is formed from deposits of mud, silt, clay and organic matter, and methane from coal beds.
Ground water
It is extracted by a process called fracking, which involves the hydraulic fracturing of the ground using high-pressure liquid containing chemicals to release the gas.
Campaigners have raised concerns that the extraction process can contaminate local ground water.
Mr Yeo, Conservative MP for Suffolk South and chairman of the committee, said: "I don't believe that there are any unacceptable risks being run here.
"Part of the purpose however of having this enquiry is to satisfy ourselves on this point, and if we thought there were any risks there to local communities, then as part of our work we would certainly say so."