One of UK's heaviest loads avoids motorway viaduct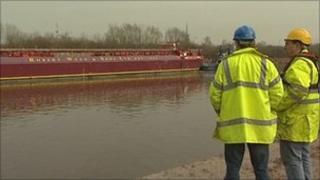 One of the heaviest loads ever to move on UK roads is being transported in Lancashire this weekend.
A giant transformer is being delivered in two sections, each weighing 270 tons to an electricity substation in Penwortham, near Preston.
Each 70m long load will be carried on a trailer pulled by two tractors travelling at 4mph.
Lancashire Police have warned of delays on the A59 Liverpool Road on the mornings of 6 and 20 March.
According to the National Grid, the two sections will be unloaded at Holme Road on the River Ribble after being brought by barge from Ellesmere Port.
The final stage of the journey to the substation will then be completed by road on a low loader with a gross weight of 525 tons.
'Delays inevitable'
Lancashire County Council said it had been working for three years to plan a suitable route.
A decision was taken to move the load by barge after computer modelling revealed it was too heavy for both the Gathurst viaduct on the M6 and the Penwortham Bridge over the River Ribble.
National Grid project engineer Barry Jordan said: "This is a huge piece of equipment to move and the route has needed very careful planning.
"We have tried to minimise disruption by moving the transformer on Sunday morning when traffic is lightest."
Holme Road, the A59 Liverpool Road and Howick Cross Lane in the Penwortham area will be closed on the mornings of Sunday 6 and 20 March.
A police spokesman said motorists were advised to avoid the area between 0800 and 1200 GMT but added that delays were "inevitable".
The transformer is needed to control power on the grid for customers across the North West, southern Scotland and north Wales.