Jack Straw calls for immigration hearing law change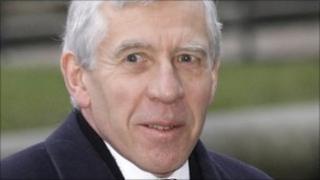 Former Home Secretary Jack Straw has called for judges to be able to hear from victims in immigration hearings.
He said Paul Houston, whose daughter was knocked down and killed by an asylum-seeker, should have been allowed to express his feelings in court.
Amy Houston was struck by Iraqi Kurd Aso Mohammed Ibrahim in 2003. He was jailed but allowed to stay in the UK as he has children here.
The UK Border Agency was told it could not appeal against the decision.
The Home Office has said a further legal hearing would take place in a bid to resolve the matter.
Mr Straw, the Labour MP for Blackburn, said Mr Houston had been failed by the system.
He said: "In criminal cases we have now changed the process so that for example there is a victim's impact statement which goes before the court.
"A huge amount is now done to ensure proper representation for victims.
"That isn't the case for immigration cases and we have got to ensure that that is changed."
Ibrahim was convicted of driving while disqualified and failing to stop after the accident. He also had previous convictions.
He and his wife had two children after his release from prison, and because of this immigration judges decided it would breach his human rights to deport him back to Iraq.
Two senior immigration judges rejected a final appeal by the UK Border Agency (UKBA) to have him deported last year.
The agency asked for leave to take the case to the Court of Appeal, but was refused.
Amy's father Paul, 41, from Darwen in Lancashire, said on Thursday he wanted the opportunity to put his viewpoint across in court.