Blackpool pavement cyclists get £30 fine warning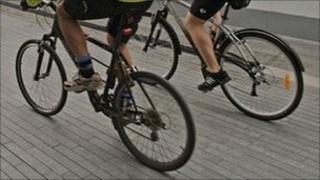 Cyclists are being warned to stick to the roads in Blackpool's South Shore area - or risk a police fine.
Residents and motorists have been complaining to police about cyclists acting in an inconsiderate or dangerous manner while using their bikes.
A day of action is being carried out to warn cyclists about irresponsible behaviour and to take action against those who cycle illegally.
Riding on pavements or without lights can carry a £30 fine, police warned.
PCSO Colin Hester, of the neighbourhood police team, said: "Blackpool is a great place to get out and about on your bike and we would encourage people to make use of the many cycle routes and other cycling facilities that the town has to offer.
"However, it is really important that if you are riding a bicycle then you consider your own safety and that of pedestrians and other road users."