Chorley Council says 'no frontline cuts'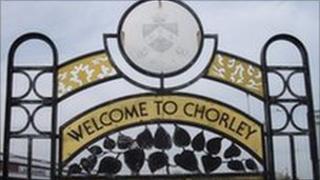 A council leader has pledged that it will not cut frontline services or jobs and will spend more money on its town centre in the coming year.
Councillor Peter Goldsworthy, leader of the Conservative-controlled Chorley Council, said it would spend £250,000 on its town centre.
He said his party had saved £5m in the past five years without affecting frontline services.
But Labour claims the savings have come from the council outsourcing services.
Mr Goldsworthy said money was saved by cutting management jobs in the past.
"We have been making major savings for the past five years, since we came to power," said Mr Goldsworthy.
"We've been cutting middle management and sharing services with other councils."
Mr Goldsworthy said that the authority had frozen its council tax and kept charges such as car parking fees low.
He added: "We've actually improved our frontline services."
Mr Goldsworthy said the money earmarked for improving the town centre would be spent on improving shop frontages and street cleaning.
However Councillor Alistair Bradley, leader of the Labour opposition, said: "They have been reducing services for several years - they have been doing less so there is less to cut."
He claimed money that had been saved had not been reinvested, claiming the council had been "sitting on" the money to make up for any shortfall in government cash.