Blackburn with Darwen Council approves £25m budget cuts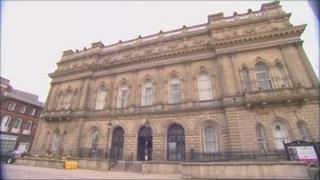 Blackburn with Darwen Council has approved its new budget, including making savings of £25m.
The Labour-led council backed plans, which include losing up to 1,000 jobs (about 25% of staff), on Monday night.
Other proposed cuts include closing many children's play areas and three out of five adult day centres.
The council said it had to make savings after its government grant was cut by £33m. The government has called the settlement "tough but fair".
Council leader Kate Hollern said: "Unfortunately we can't avoid important services being changed or stopped and losing the people that did the jobs given the scale and speed of these cuts we have been forced to deliver.
"People have helped us make these tough choices by telling us which services they value and rely on the most.
"We have attempted to minimise the impact on the most vulnerable people throughout the process."
She said the authority had tried to protect front line services where possible, by requiring further savings in back-office areas.
Councillors agreed to allow workers to take four days unpaid leave - a move which was thought to have saved between 50 and 100 jobs.
The council is also scaling back its building programme.
Gareth Roscoe of Unison said: "If the vote had gone differently on the four days' leave there would have been further money that the council would have had to find but they factored this into their plans."