Chorley ex-headmaster jailed for indecent child images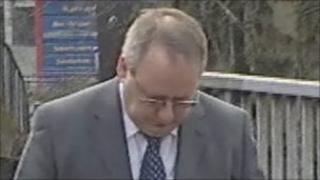 A former head teacher at a Lancashire primary school has been jailed for having more than 500 indecent images of children on his computer.
Peter Croft, 43, of Yew Tree Close in Chorley, admitted 21 charges of making, possessing and distributing indecent images of children.
He had been head at Willows Catholic Primary School in Kirkham. The offences did not relate to pupils, police said.
A judge at Preston Crown Court sentenced him to 15 months in prison.
'Kept trade alive'
He was also put on the sex offenders register for 10 years, disqualified from working with children for life and given a life-long sexual offences prevention order.
Judge Simon Newell, sentencing, told Croft it was men like him that kept the trade of child pornography alive.
"Without men such as you, the demand for child pornography would not be there," he said.
The images found ranged from level one to level five, the most serious. Some of the victims were as young as three, the court heard.
Croft's offences were discovered by the Child Exploitation Online Protection Agency.
'Pillar of society'
Willows school chair of governors Gerrie Byrne said the case had affected the entire school.
"Governors, staff and families have supported each other in the last six months and we are grateful for the assistance from individuals at Lancashire County Council, Lancashire Constabulary and the Lancaster Diocese.
"The Willows Catholic Primary School has moved on... and we hope and pray that the young victims at the heart of the case are able to do the same one day."
Det Insp Hazel Stewart, who led the investigation for Lancashire Police, said Croft was "a school teacher by day, a pillar of society, and at night [he was ] locked away with a computer, sharing images of young children with other like-minded individuals."