How to use the internet to promote your unsigned band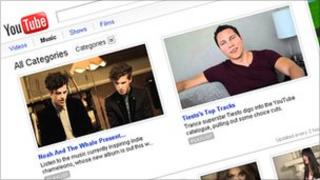 There was a time, six or seven years ago, when a musician could have a Myspace page and be done with it.
The page allowed them to upload pictures, tracks, blogs and communicate with their fans.
That was until the big blue banner of Facebook came along and took a lot of people's attention with them.
If you are a band or artist and you're reading this and you only have a Myspace page then it is time to do something about it.
It is so important to have a good online presence with lots of information about yourselves. There are countless times in the Introducing studio when we are looking for information on a demo that has been sent to us and there's none online!
There are no excuses. With that in mind, here are some of the best online tools that artists can use to maximise their exposure and create a fanbase.
Let's start with Facebook. With nearly 600 million users worldwide it is by far and away the biggest online community. With their newly revamped "Like" pages, it is easier than ever for bands and artists to have a presence.
But by default Facebook doesn't come with the same tools like track uploads that Myspace has. That's where an app called BandPage comes in, which allows you to customise your Facebook page however you want. It's free for a basic page and for a small monthly fee you can access more features.
YouTube killed the Myspace star. The web is changing at such a fast pace that it is weird to remember how big artists such as Arctic Monkeys and Lily Allen became off the back of their Myspace pages. Now Justin Bieber, Lady Gaga and for better or worse, Rebecca Black, have maximised YouTube to become even brighter stars.
YouTube especially lends itself well to solo artists who can play acoustically. Set up a camera, play and upload. It seems an obvious and easy thing to do, but for the viewer and for your fans it can be really engaging and intimate.
SoundCloud is the YouTube of sound. A great community built around uploads of music, podcasts and interviews.
It is by far and away the best place to upload your music online. Their in-built player is fantastic and can be embedded anywhere, fans can follow you and see when you have posted a new song, and there are plenty of ways for you to share your music whether it via Twitter or Facebook or another service.
But what if you're an artist wanting to stand out a little? Do something a bit new and inventive? You could try using a geolocation smartphone app like Foursquare, Gowalla or Facebook Places.
These all work on the premise of "checking in" to the place where you are, to record you were there and share it with your friends.
All three of these services now support the creating of one-off events. If you create an event for your gig, then your fans can check in to it, share that they are there, and you can offer them perks for doing it. How about offering a free t-shirt to someone who checks in to five of your gigs? Backstage passes for ten check-ins?
Geolocation apps are just taking off as more and more phones come with GPS built in. Make sure you're at the forefront.
The key with any of these services is getting really clear and concise information about yourself on them. Who are your band members, where are you from, what are you doing, when is your next gig? You would be amazed how many artists neglect to put this information online. If you don't you're doing yourself a disservice.
Sean McGinty presents the BBC Introducing in Lancashire programme on BBC Radio Lancashire from 8pm each Thursday.