Scots Guard honoured for bravery in Afghanistan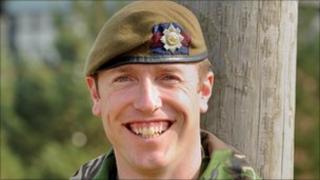 A soldier from Blackburn is being honoured for his bravery after rescuing civilians and fellow soldiers in two separate incidents in Afghanistan.
Sgt Anthony Gibson was bombarded with grenades and gunfire as he rescued a woman and children whose vehicle had been hit by a roadside bomb.
The Scots Guard also rescued three injured soldiers during a fire-fight.
He has received a Mention In Despatches, the oldest recognition of gallantry in the Armed Forces.
The rescues took place between April and September 2010.
'Exceptional leadership'
The 29-year-old was riding a quad bike when he rescued the civilians despite the risk of further explosions.
"I left with three people on the quad bike and I kept going back for more," he said.
The casualties were taken for medical treatment
His citation states that he showed "exceptional leadership" by "personal example and moral and physical courage" in an area described as "hell".
The citation also notes that he had borne a "heavy burden - a burden so great it would have broken lesser men".
Sgt Gibson said: "I am really made up. I am shocked at getting this recognition - I did what I did because it was my job."