Work on Brockholes floating wildlife centre under way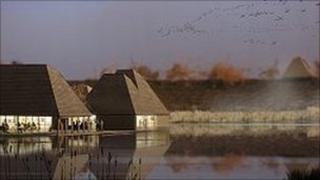 A floating visitor centre which it is hoped will help attract tourists to a wildlife haven in Lancashire is being moved into place.
The £8.6m facility at Brockholes Nature Reserve, near Preston, is due to open to the public on Easter Sunday.
Water is being pumped into the structure from another lake on site over the the next two days.
Facilities include an education centre, shop, play area, conference rooms and restaurant.
Brockholes is owned and managed by the Lancashire Wildlife Trust (LWT) but the bulk of funding for the centre was provided by the North West Development Agency (NWDA) and Forestry Commission.
Tourism hope
Nick Brooks-Sykes, NWDA director of tourism, said: "I'm delighted to see the visitor centre afloat.
"This magnificent attraction is a welcome addition to the tourism offer of the North West and one which has truly national and international appeal.
"I'm looking forward to seeing it really realise its full potential."
Officials believe the centre will be one of the key attractions in the new Ribble Coast and Wetlands Regional Park, which stretches down the tidal reaches of the River Ribble to the Fylde coast.
They hope the reserve will attract more than 250,000 people from across the UK every year, as well as providing a community resource.
The site, near junction 31 of the M6, is home to a wide variety of birds including lapwings, sand martins and kingfishers as well as more vulnerable species such as whimbrels, skylarks and reed buntings.