Blackburn protests 'to cost Lancashire Police £500,000'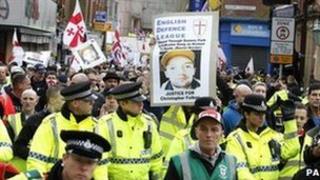 Policing demonstrations by the English Defence (EDL) and opposing groups in Blackburn could cost about £500,000, it has been estimated.
The estimated cost, by Lancashire Police Authority, is something the force can "ill afford", its chairman said.
On Saturday, about 2,000 EDL supporters gathered on Northgate with about 500 rival protesters at a separate site.
Twelve people were arrested during the demonstrations.
Some shop owners said the event had led to a drop in trading.
'Matter of judgement'
A 48-year-old man, from Blackburn, was arrested on suspicion of assaulting a police officer and others were arrested on suspicion of offences including breach of the peace, affray, being drunk and disorderly and using threatening words or behaviour.
Even though the force faces having to make savings of £42m over the next four years, it said it had a duty to ensure people were safe particularly at events such as demonstrations.
"One of the things you have to do in circumstances like this is to make sure you have sufficient resources to do the job you have to do," Malcolm Doherty, chairman of the Lancashire Police Authority said.
He said it was a "matter of judgement" for senior police officers to decide how to carry out the operation.
"We had plenty of time to prepare for this, and one of the big costs of these sorts of operations is when you have to cancel rest days at short notice," he said.
"Good preparation and good planning", had helped keep policing costs down, Mr Doherty explained.
Phil Ainsworth, who runs a jewellery shop and is a member of the Blackburn Town Centre Partnership, said trade had been quiet on the day of the demonstrations.
"We did less than 5% of our usual Saturday business, never mind it being Mother's Day, which is one of the biggest days in the retail calendar," he said.
"As a retailer it has massively impacted on our day, but the police did a fantastic job in marshalling the day".
Shops closed
Hundreds of police, along with mounted officers and steel barriers, kept the EDL supporters and those from opposing groups apart, in areas away from the general public.
The EDL demonstrated outside King George's Hall and a counter protest took place at Sudell Cross.
Some roads were closed during the event and a number of smaller traders in the town centre closed for the day.
The force restricted numbers to 3,000 from each side, for the "safety of the community".