Duke of Lancaster sergeant calls for compensation cap review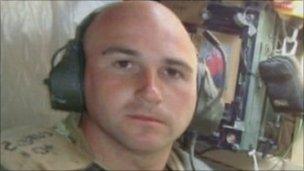 A soldier who lost both his legs in a bomb blast in Afghanistan is calling for a review of a cap on compensation imposed by the Ministry of Defence.
Sgt Rick Clements, 31, from Chatburn, was serving with the Duke of Lancaster's Regiment when he stepped on a mine while on patrol last May.
He was told the compensation added up to £633,025 - but he would receive only £575,000 because of the cap.
Sgt Clements has begun a legal challenge to his payout.
An online petition has been set up for people to show their support for his case.
Sgt Clements received a letter from the Ministry of Defence which detailed the amount of compensation he was due for each injury and disability.
It included £230,000 for the loss of a leg and almost £50,000 for infertility.
However, the letter also said because the cap, he was only entitled to £575,000.
Sgt Clements said: "It wasn't so much the figure it was just the way that they put that I should have received a certain amount but there was a cap so I wouldn't receive that.
"I feel it needs to be looked at again.
"Because of medical advances, some of the guys are surviving far more severe injuries now, so I think they need to take that into account and realise that some may be entitled to more than that amount of money."
He added: "I just think it's a bit disrespectful to send me the letter that they did, with one figure, and then give me a lower sum. Me and all the other guys who are over there deserve much better than that."
Sgt Clements served in the Duke of Lancaster's Regiment for 14 years.
The explosion in Helmand Province meant he had to have both his legs amputated and was left with severely damaged arm.
He also suffered terrible internal injuries and cannot have children.
He is now campaigning for changes to be made to the Armed Forces Compensation Scheme.
His fiancée and full-time carer, Leanne Isaacs, 28, says it has left him with a feeling of injustice.
She said: "If he was a civilian he was looking to get about £4m, but obviously because he was employed by the army, he will only receive £575,000, and I don't think there is any justice I that."
His solicitor Hilary Meredith, said the cap was outdated, adding, it "doesn't reflect advances in medicine and treatment.
"Years ago the someone with injuries of this severity would have died - now they have a good chance of survival.
"All the money he has been given will be spent on a specially-adapted bungalow..after that his only income will be from a pension of £2,000 a month."
An MoD spokesman declined to comment on the individual case, adding: "No amount of money can fully compensate for the terrible injuries suffered by some members of our Armed Forces in the course of their service.
"The Armed Forces Compensation Scheme pays a tax-free lump sum of up to £570,000 and, in the most serious cases, a monthly tax-free, index-linked payment for life."
Related Internet Links
The BBC is not responsible for the content of external sites.