Lancashire cricketer Graham Lloyd pays tribute to wife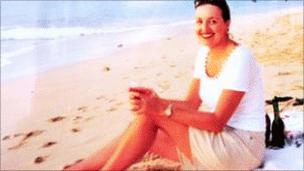 The former Lancashire cricketer Graham Lloyd has paid tribute to his wife, who died on Mothering Sunday.
Sharon Lloyd, died after a five-year battle with a brain tumour. She was 37.
Mr Lloyd, 41, a former Lancashire and England batsman, described his wife as an "unbelievably loving woman who lived her life to the full".
Mrs Lloyd's funeral takes place at Accrington Crematorium on Friday. It it will be a private affair.
The couple met on a night out in Southport and have been married for 14 years.
They have two sons, Joseph aged 12 and seven-year-old Joshua.
Sharon Lloyd was from Liverpool but came to live in Lancashire when she married Graham Lloyd.
He now plays for Accrington Cricket Club, where he made his debut at 14. He later played in 203 first class matches and earned six England caps
Mrs Lloyd was working at New Look in Accrington before her death.
"She worked hard and would never give up, but towards the end she found it difficult," said Mr Lloyd.
Her mother, Carol Miller, added: "She never complained. I remember the day she came out of the consultants when she was diagnosed, she was smiling, saying that the tumour could be operated on and controlled and not to worry.
"She knew that she would never be cured. She always saw good and even sent money to a local little girl who was very ill to send her for treatment in America."
Related Internet Links
The BBC is not responsible for the content of external sites.