Padiham lottery winner to buy mother a bungalow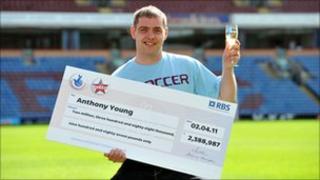 A Lancashire machine operator, who won more than £2m on the lottery, plans to spend his winnings on buying his mother a bungalow and then see the world.
Anthony Young, 33, of Padiham, bought his ticket for the 2 April draw and it was only after returning from a party on Sunday he realised he had won.
He could not confirm his luck until Monday and so kept his ticket hidden under a carpet.
Before his win he earned £210 per week through a temporary job.
He said this was just enough to cover his household bills but he had not been able to afford to watch his beloved Burnley FC since last October.
Quit job
Mr Young said he intended to spend some of the £2,388,987 cheque on helping out his family, buying his mother a bungalow and seeing the world.
He said he planned to set up his own plastering business after that.
"As it was late on Sunday evening, the lottery line was closed so I had to keep my ticket safe," he said.
"I went to the pub with mates and had it in my pocket the whole time before hiding it under my carpet when I went to bed.
"I didn't sleep a wink and was out walking the dog at 4am on Monday waiting for the phone line to open."
The next morning his friend came to collect him for work at Futaba Tenneco UK Ltd, a local factory.
"I told him I wouldn't be coming in anymore and to give my job to someone else who really needed the money - as I'd won the lottery," he added.
The winning numbers from the Lotto draw on 2 April were 12, 14, 32, 44, 48, 49 and bonus ball 25.