Fleetwood's maritime past celebrated in clay sculptures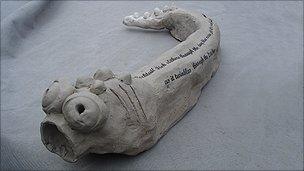 Fleetwood's maritime history is to be celebrated in a series of sculptures by Lancashire artist Louise Wood.
As part of the Ten Faces, Ten Sculptures, Ten Journeys arts project, Ms Wood is holding workshops to create 10 hand-sized clay sculptures.
Each sculpture will tell a different story of Fleetwood's maritime heritage.
They will be embedded with words from local people and each will go on a physical journey before being displayed in the town.
The 10 sculptures will open to reveal hidden sections with further memories to be unravelled inside.
Some will tell tales of the Larne ferry and the Knott End ferry, and other stories will be decided by conversations with local residents.
As her sculptures are always inspired by interviews with members of the public, Ms Wood is hoping residents and visitors will suggest the stories that mean the most to them.
"Being a community artist is in itself a privilege, as I am afforded the opportunity to meet and engage with people from all walks of life," she said.
"Previously having interviewed miners, and communities in the midst of housing regeneration, and now currently immersed in people's sea stories, I am grateful to all the welcoming Fleetwood inhabitants who have become involved and look forward to meeting many more."
Ms Wood is also keen to trace a relative of Isaac Spencer, who donated the clock on The Mount building in 1919 in memory of the men who died in World War I.
This project is also unusual in that the work will travel on different journeys.
One piece will go to Belfast on a ferry and another will sail with the Royal Navy's Fishery Protection Squadron.
One of the 10 sculptures, created by students from St Mary's Primary School in Fleetwood will be taken to the bottom of Lune Deep by a diver.
"The children were inspired by both the sea creatures that might live in Lune Deep, described as the Grand Canyon under the sea in Morecambe Bay, and a children's story called Sea Swallow," said Ms Wood.
Lynne Bowen, Wyre Borough Council Cabinet member with responsibility for leisure and culture, said: "Fleetwood has always been very proud of its heritage and Louise's sculptures will be another way to celebrate that.
"There are exciting times ahead for Fleetwood's waterfront and we are encouraging the community to get involved as much as possible."
There will be free drop-in pottery workshops during April and May at the Mount pavilion in Fleetwood, for anyone interested in taking part in the project, and once completed the sculptures will go on public display.
Related Internet Links
The BBC is not responsible for the content of external sites.