Parents at pub while child, three, drank lager at home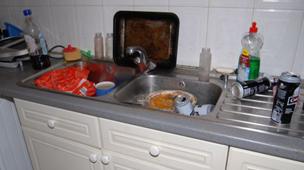 A three-year-old boy was found drinking from a can of lager while his parents were at the pub, a court has heard.
He was one of five youngsters living amid "shocking" conditions in a house in Blackpool, Lancashire.
Police discovered the house was strewn with dirt, food and lager cans.
Angela Freer, 31, and Christopher Steele, 55, were given suspended sentences at Preston Crown Court after admitting child neglect.
Neighbours alerted the police in September 2009 after they spotted the children swinging from the net curtains.
Inside, officers found four of the children partially-clothed and one was drinking lager from a can.
There were no bed sheets in the children's rooms, no clean clothing, no toilet paper and the house smelled of faeces and urine.
Officers found one boy asleep on a sofa and could not wake him, leading them to believe he was under the influence of alcohol.
The couple were sentenced to 20 weeks' imprisonment for each of the five counts, suspended for two years.
The children have now either been adopted or are in foster care.
When Freer, who was pregnant at the time, turned up drunk at the house she blamed her partner for abandoning the children.
Judge Anthony Russell QC, sentencing, told them: "It is quite shocking to see young children subjected to such an upbringing.
"You left them alone and uncared for, and in potential danger."
The judge said the couple had blamed one another while ignoring their "obvious parental responsibilities".
"It was, in my view, serious neglect. It was not just leaving them alone but allowing the house to fall into such an appalling state."
Virginia Hayton, defending Freer, said her client had learning disabilities and had "genuine love and affection for her children".
Nicholas Courtney, defending Steele, said his client accepted he left the children alone, but added the events were "borne out of inadequacy rather than malice".
Both parents were said to suffer from alcohol problems and the judge said their "excessive drinking" had played a major part in the events.
Det Insp Tony Baxter, of the force public protection unit, said he was "appalled" by the parents' behaviour.
"They clearly had no regard for the safety of their children, leaving them in an extremely vulnerable situation whilst they went to the pub for a night out.
"The conditions in which the children had been left were beyond belief and when officers arrived at the scene, they found a three-year-old child drinking out of a lager can.
"Children have every right to feel safe and protected particularly by their parents.
"I have no doubt that the actions of concerned neighbours may well have averted a tragedy."
Related Internet Links
The BBC is not responsible for the content of external sites.