Blackpool churchgoers create mosaic masterpiece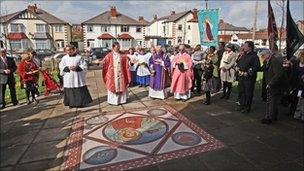 A Lancashire church has unveiled a colourful new floor mosaic made by its parishioners from more than 60,000 tiny tiles.
The new artwork, which took more than a year to create, has taken pride of place at the entrance of St Stephen's on the Cliffs on Holmfield Road.
Parishioners at the Blackpool church and local school pupils were helped by artist Bernadette Hughes.
Christian martyr St Stephen is the central image.
Water company United Utilities funded the project through its United Futures community regeneration programme.
A spokesman for the company said it was a way of thanking the community for putting up with the work they were doing to upgrade wastewater treatment facilities in the area.
Canon Andrew Sage, from the church, said: "The new mosaic looks wonderful and has added a whole new dimension to the church entrance.
"The fact that the tiles have been laid by members of the congregation and local young people makes the piece extra special."
Artist Bernadette Hughes, who lives in St Helens, and studied mosaics in Italy, said the project had been a "labour of love".
She said: "I have been a regular guest at the church for the past 12 months, pitching up with a trestle table at the end of Sunday service to enable members of the congregation to make their own small mark on the mosaic by laying tiles.
"It has been a real community effort."
Related Internet Links
The BBC is not responsible for the content of external sites.