Mother's protest over Rossendale grave rules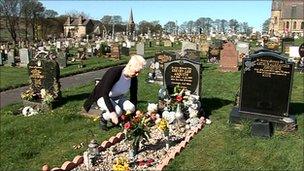 Campaigners are meeting in Rawtenstall to oppose a council's limit on tributes that can be left in cemeteries.
Rossendale Council has said that memorials on any new or reopened grave must be left within 18in (45cm) of the headstone.
The council said the rule allowed cemetery staff to maintain the graves.
Hundreds of people have joined a Facebook campaign against the rules led by Karen King, whose three-year-old son is buried in a local cemetery.
"I think it is wrong what the council are doing here. I come here to visit my son," she said.
"This is my own personal space. I love coming to my son's grave.
"This is my land, this is my son's grave. I don't want it disrupting."
She added: "The council don't need to come round the grave as I do my own grave - I cut the grass once a month."
Fiona Meechan, Director of Customers and Communities at the council, said: "We want to reassure people that memorials can, of course, be left on graves. This includes all sorts of things such as flowers, plants, teddies and cards."
Related Internet Links
The BBC is not responsible for the content of external sites.