Warning as tide traps 93 people in north-west England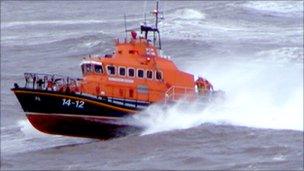 Tourists taking advantage of the sunny weather have been warned to take care after 70 people were trapped by the incoming tide off Blackpool.
They were picked up off the resort's South Pier at about 1300 BST.
The Maritime and Coastguard Agency (MCA) said rescue teams were called to incidents involving 23 other people trapped by the tide in the North West.
Liverpool Coastguard Watch Manager Su Daintith said it only took two minutes to check the tide times.
She said: "We know that on a beautiful like today that people don't want to waste any time getting to the beach in order to soak up the sunshine.
"But just two minutes spent checking the tide times, and there are plenty of resources available where you can find these, could mean the difference between a carefree day and a Coastguard team coming to your rescue."
Coastguards were first called at 1313 BST when four people became stranded near Fleetwood.
Shortly afterwards they were called to help the 70 people trapped off Blackpool. The resort's beach patrol team and RNLI lifeboat assisted.
At 1341 BST, two separate groups - one of five people and one of nine people, including four children -became stranded on sandbanks further north of Blackpool at Norbreck Castle.
They were helped back to the shore by the coastguard.
A lady and her dogs were taken back to safety off Arnside, Cumbria, about an hour later and finally, at 1441 BST, four girls were reported stranded on the spit at Little Eye in West Kirby, Merseyside.
When the coastguard arrived the girls were no longer in danger, however.
Related Internet Links
The BBC is not responsible for the content of external sites.