Padiham BNP deputy mayor election condemned by bishop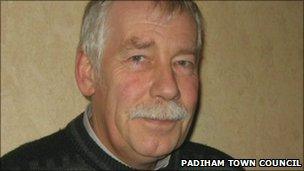 The election of a British National Party (BNP) member as deputy mayor of an east Lancashire town has been condemned by the Bishop of Burnley.
Councillor John Cave was elected to the role by fellow representatives of Padiham Town Council. Traditionally, the deputy becomes mayor the next year.
Mr Cave has said his membership is "completely irrelevant" to his new role, which he will take up next month.
But Bishop John Goddard said it was "a sad day" for Padiham.
The town is three miles from Burnley, where race riots took place in 2001.
Bishop Goddard said: "It is a sad day when we have in east Lancashire, in the town of Padiham, someone who may be the symbol of that town, who espouses racist views."
He said people in the town wanted it to be known as a good place to live, good for education and business.
"This does not help," he said. "We are facing major cuts, we are going to up against people into the town that can be wealth creators so our town can continue to grow - both Padiham and Burnley."
Simon Darby, BNP spokesman, said the party was not racist.
"We find it reprehensible he [the bishop] should express such contempt for local people and the democratic process," he said.
He added: "If the Mayor of Padiham was a Pakistan Muslim, not born in the area, the bishop would be positively salivating."
Mr Cave said things had been "blown out of all proportion" and that his main task would be to chair the regular meetings of the 15 councillors.
He said: "This is not meant to be a political forum of any sort. It is a town council, akin to a parish council.
"This is not party politics, this is all about Padiham. Politics does not come into it. It's completely irrelevant. This has been blown out of all proportion."
Mr Cave said the main focus of the council was to keep its town hall.
It is understood he was supported by nine out of 11 councillors who were present at the vote, with two abstaining.
Mr Cave is expected to choose his wife, BNP county councillor Sharon Wilkinson, as his mayoress.
Related Internet Links
The BBC is not responsible for the content of external sites.