Preston church encourages peregrine falcon watchers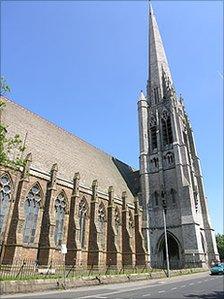 A Lancashire church is encouraging people to come and look at a pair of peregrine falcons that have set up home there.
St Walburge's Church in Preston has two falcons nesting on its tall spire.
Visitors have been urged to watch the birds on a screen linked to a camera on its roof to deter egg hunters.
So far the birds of prey have raised seven chicks at the Grade I listed church, which is one of the most notable landmarks in the city.
Hugh Reid, maintenance manager of the building, said if more people were keeping a lookout they may notice if something was wrong.
He said one of the problems the young falcons faced was with down draughts of wind created by the church's construction, which could hinder their ability to fly back up to the nest.
"In the last two years we've had three chicks come down from the nest to ground level, one was taken off site and we weren't informed about it for six weeks," he said.
"That meant that when we got it back it couldn't fly or hunt and we had to take it to Turbary Woods Rescue centre in Preston, it took them 12 months to get it back into the wild.
"The more proper bird watchers are watching, there's less chance of dodgy people coming on site. We've even had people living nearby who are off work sick, in bed, watching the birds with binoculars for us."
The breeding falcons bring rats, mice, swifts and even seagull chicks to their young and during winter they will feed on the city's pigeon population.
When the young fledglings eventually leave the church eyrie they will have to find their own place to live.
Peregrine falcons can achieve speeds of over 200kph (124mph) and are found on every continent except Antarctica.
Related Internet Links
The BBC is not responsible for the content of external sites.