English Defence League told to rearrange Blackpool demo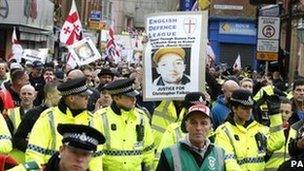 Lancashire Police are calling on the English Defence League (EDL) to rearrange a planned march in Blackpool.
Officers and EDL officials are due to meet on Friday to discuss the march, which could clash with Blackpool's Premier League game on 14 May.
Bolton Wanderers are scheduled to play Blackpool on that date if they do not win a place in the FA Cup Final.
An EDL march through Blackburn earlier in the month cost police £500,000, the Lancashire Police Authority said.
A Lancashire Police spokesman said: "We are aware that the English Defence League are talking about holding an event in Blackpool on 14 May and will be meeting with them to discuss that date, what they are intending and potential venues.
"That particular Saturday is a busy day for the town and we will be asking them to consider other options."
The spokesman said that organisations have the democratic right to protest peacefully and neither Lancashire Police or council have the power to ban a demonstration, although conditions can be set around times and numbers attending.
He added: "At present nothing has been formally agreed or approved and we will work to ensure that these events pass off peacefully and with as little disruption as possible."
Police were already expecting to have a high profile operation for the Premier League match between two North West rivals.
Related Internet Links
The BBC is not responsible for the content of external sites.