Blackpool Airport bosses defend £10 flight tax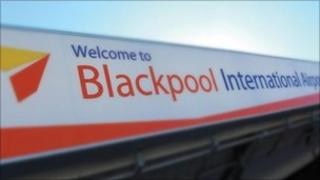 Bosses at Blackpool Airport have defended a £10 tax on all flights, saying it has helped them to continue operating in difficult financial times.
The controversial Airport Development Fee (ADF) was introduced in January 2009 for all departing passengers over the age of 16.
Sue Kendrick, from the airport, said without the tax it could be in a "very different situation".
The tax was offset by the introduction of free parking at the airport.
When the tax was brought in, Ryanair stopped its daily flights to Dublin and its Girona service in protest.
'Different situation'
Ms Kendrick said: "It was controversial for local people, but it has halved the loss of the airport, that is the actual fact of the matter.
"We are struggling financially, we've not made a secret of that, and without that support [of the ADF] we could be in a different situation."
She added: "We hope we give that back to people with the free parking.
"We are very grateful for everyone that has continued to use us. Our load factors are higher than ever on the flights that we've got, so we are very grateful for the support."
Passengers pay the ADF fee at a ticket machine in the main airport terminal and proof of payment is needed to pass through airport security into the departure lounge.