English Defence League postpones Blackpool march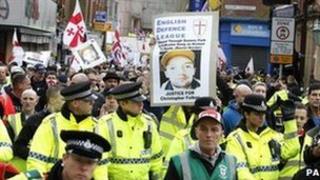 The English Defence League (EDL) has agreed to rearrange a planned march in Blackpool following a request from police.
Lancashire Police had concerns the march would clash with Blackpool's Premier League match against Bolton Wanderers on 14 May.
An EDL spokesman said: "The EDL are only to happy to facilitate this request with the local police."
Lancashire Police said an alternative date had not been decided.
A police spokesperson said: "We are grateful to the EDL for their co-operation in this matter."
The football match will also be rearranged if Bolton win this weekend's FA Cup Semi-Final against Stoke City, as the the FA Cup Final is also on 14 May.
An EDL march through Blackburn earlier in the month cost police £500,000, the Lancashire Police Authority said.