Clitheroe Youth Forum receive citizen award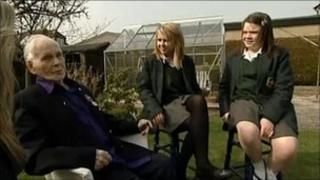 Ribble Valley youngsters who worked to ensure local veterans received war medals they missed out on have been recognised at an awards ceremony.
Clitheroe Youth Forum was one of just six recipients of the Rotary International in Great Britain and Ireland Young Citizen Awards.
They received the award at a ceremony in Dublin on Saturday.
The group also created a roll of honour, which was displayed in the parish church.
Mel Diack set up the forum in 1998 to try to help local youngsters to do something constructive.
His more recent recruits have spent two-and-a-half years creating the roll of honour, for the 71 men and one woman from the town who were killed during World War II.
When they were interviewing veterans and relatives to complete the roll, they discovered some veterans had not been awarded their medals.
They gained funding from the Lottery Heritage Fund to work on the project.
'Different man'
The youngsters wrote to the Ministry of Defence and arranged for several veterans to finally receive their medals, including 98-year-old Sam Brearley.
Speaking to the BBC ahead of the ceremony, Mr Brearley said: "I used to pass someone in the street and there were his medals and I knew I should have had them as well.
"It didn't mean much until I got some medals and I am a different man altogether, now I've got them and wear them."
Forum members Morgan Rawcliffe and Harry Ellis collected the awards.
"It is important for all the men and women who fought for freedom in the war to be remembered," Morgan said.
Harry, whose great-grandfather was a radio signals operator, said their two-and-half years of hard work was worth it.