Life! evangelism mission in Leyland hailed a success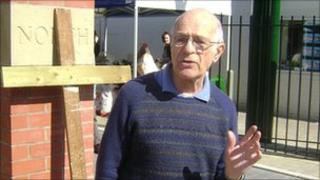 A vicar in Leyland has hailed a week of evangelism as an "incredible success" after at least 30 people made a commitment to become Christians.
Reverend David Gibb from St. Andrew's in Leyland organised the Life! mission.
The event included theatre at the market, school visits, business breakfasts and a special golf day.
There were also keynote speeches from Robin Oake, the former Chief Constable of the Isle of Man and ex-cabinet minister, Jonathan Aitken.
Both men spoke to packed-out audiences. A spring ball sold out and there was ample support for a curry night, a gardening session, cream teas and all manner of events held to take the church out to people and show them that Christians live their lives like anyone else.
"It's been great, it really has," David told me as we joined shoppers at Leyland market to watch short sketches and speeches aimed at engaging the passersby in the work of the church.
"People who are quite young to people who are quite elderly have been coming to different events. People who have had some church background and people who have had no church background have been opening up to us and wondering if there could be something in this for them."
The programme of events had been crafted to maximise St. Andrew's appeal to the Leyland people who may not have an accurate picture of what modern day church life is about.
"So often we Christians hide away in our buildings... some of our buildings are great, but it is good to get out. Jesus was always out there amongst the people and not just in the temple or the synagogue."
Broadly appreciative
To help with the mission, Canon Doctor Michael Green of Wycliffe Hall in Oxford brought a team of young students from the city's Centre for Christian Apologetics.
Resting from a delivering an oratory to the shopper, the 81 year old canon told me: "The team are currently training to be vicars and these are pretty quality people.
"I like to see their dynamism, they spend a lot of time in lecture halls and so it is good for them to get out into the open air and do something."
Those watching the testimonies and drama at Leyland market seemed broadly appreciative of what they were seeing. One woman shopper said: "I was brought up a Roman Catholic. My friend goes to the church so I went see what was going on. I went on the walk with them the other day and I have thoroughly enjoyed what they have been doing this week."
Another shopper wasn't so enamoured: "I don't think it is necessary," she told me. "I go to church twice a week. I am a Christian, but it is not going to church that makes you a Christian, it's how you live your life."
One woman had travelled from south Cumbria to enjoy the week's mission. "I wouldn't have missed it for the world," she exclaimed. "It hasn't been easy. People have had a tendency to walk past and not stop to listen, but there have been some wonderful speakers and many have ticked a response form to say they want to hear more."
And more is what is on offer. The Reverend David Gibb is looking forward to the next few weeks.
"Some people have already said 'count me in, I want to become a Christian' others have said 'hang on a moment, I'm not really there yet but I would like to have another look at it and see if there's something in this.' Immediately after Easter we will have courses for both."
In a letter to the parish David made it clear this is just the start as he told them: "We have only just begun!"
Joe Wilson presents the faith programme on BBC Radio Lancashire from 6am each Sunday.