Blackburn family pleads to free couple and children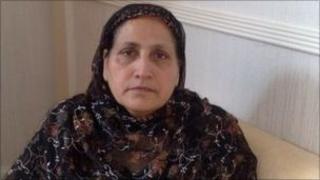 The family of a pregnant woman held in prison as a murder suspect with three children under five are calling for their release.
Mother-of-three Irfana Ali, 27, was arrested in Jhelum, Pakistan, along with her husband Malik three weeks ago after the death of a 10-year-old boy.
It is believed that the boy was killed in a dispute over a family inheritance.
Mrs Ali's family in Lancashire insist they are innocent and are being held without charge.
It is usual in South Asia for parents to be held with their children in jail.
Some prisoners can go years without charge but this is not usually the case with British nationals.
The couple, who live in Milton Keynes, are being held in a city jail in Jhelum in the Punjab Province.
Irfana Ali, who is five months pregnant, was on holiday with her husband and their three children in Pakistan when they were arrested by police investigating the death of her husband's half brother.
The boy was found hanged and had been bludgeoned to death. Two other men are also in police custody.
Nobody has yet been charged.
Grandmother's tears
Irfana Ali's mother Safina Begum, from Blackburn, said she was distraught with worry.
"I've been crying all night , I can't sleep, I can't eat," she told BBC Asian Network.
She added: "My three little grandchildren are in jail, a prison worker has told me that the youngest who's 15-months-old is ill, they have no clean clothes, the ones they're wearing are washed when they get dirty.
"She said she cooks food for them at home and takes it to them."
Mrs Begum's MP Jack Straw is raising the issue with Pakistan authorities via the Foreign Office.
The Foreign Office said it is aware of the arrest and is providing consular assistance to the family.
A spokesman for the Pakistan High Commission in London said: "Crimes can take place anywhere in the world. In Pakistan the institutions responsible for maintaining law and order are working effectively."