Skelmersdale mobility aid repairer 'enhances lives'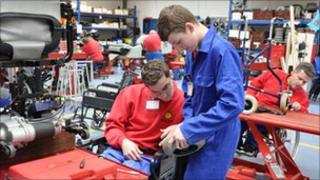 Raising the self esteem of disabled youngsters was the aim of a man who set up a Lancashire social enterprise to repair mobility equipment.
Peter Cousins felt that some teenagers could feel they were on "life's scrap-heap" and was inspired to set up the Brighter Future Workshop.
The Skelmersdale based charity has trained over 3,000 disadvantaged people since it was created in 2005.
Its work has now been recognised with a Queen's Award for Enterprise.
The charity was praised for "its outstanding commitment to enhancing the lives of the local community" and was considered an "exemplary demonstration of sustainability for any sector".
The workshop trains young disabled people to recycle mobility equipment that would otherwise go to landfill.
The trainees work with experienced technicians and learn basic mechanical and electronic engineering skills.
Sense of achievement
Mr Cousins became a wheelchair user following a medical condition, and got involved with a Shopmobility scheme that loans out mobility scooters.
He was in a shop and saw a young man with cerebral palsy sitting on the floor, trying to fix his own scooter.
He said noticed the sense of achievement the man felt in being able to tackle the repair and was inspired to set up the workshop facilities.
The trainees can repair many mobility aids from scooters, stair lifts to hospital beds.
"If someone has a long-term disability you don't train them without first helping them to believe in themselves," said Mr Cousins.
"It devastates me that many feel like they're already on the scrap-heap when they're just teenagers.
"We help them realise their potential by learning both technical and social skills and seeing how their work can help other disabled people who desperately need equipment."
'Built self esteem'
One of those the workshop has helped is 22-year-old Graham Vanson.
"I'd been on other training courses and just found them frustrating.
"Now I love working with my hands and knowing that what I do makes a difference to other people. In my days off college I visit the workshop as a volunteer and help new trainees.
"It's built my self esteem. I've gone from a man in a wheelchair living day-to-day with confidence as low as you can go, to now being in a team that it's an honour to be part of," he said.
He added: "It's a honour to get an award that's usually for the big top dogs."
When it was initially set up the organisation was funded through grants from organisations including the Big Lottery.
It is now 80% self-sustaining through the sale of the mobility and disability equipment it refurbishes.
The Queen's Awards for Enterprise is described as the UK's highest accolade for business success.
Brighter Future was among just 10 winners in the scheme's sustainable development category. Another 146 awards were given out in the international trade and innovation sections.
Linemark UK Ltd in Rawtenstall was recognised for its innovative Impact paint system for marking sports pitches. The company said a whole football pitch can be covered with one litre of paint.
Macuk Neuroscience based in Blackpool provides specialist clinical research services in the biotechnology field and was chosen for the international trade category.