Powers to stop Heysham Barrows beauty spot fires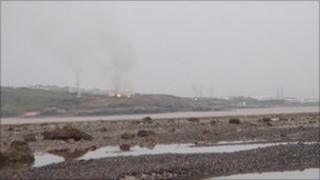 Young people who gather at a Lancashire beauty spot will be asked to disperse in an attempt to stop deliberate fires, police have warned.
About eight small fires were started on National Trust land at Heysham Barrows on Monday evening.
Police have appealed for information about a group of youths in their late teens with shaven hair who were seen in the area.
They said they would use "direction to leave" powers to send groups home.
'Parents' responsibility'
Lancashire Police said that if people who have been asked to leave return within a specific time they can be arrested under the powers.
A spokesman said any youths could also be taken home to their parents and be made the subject of a youth referral scheme to try and improve their behaviour.
Police community support officer Chris Dyson said: "This is a beauty spot that is used by a large number of people but this sort of behaviour is spoiling it for those who want to make use of the site.
"We will be clamping down on this and are asking parents to help us too. Parents have a responsibility to make sure that their children are safe and aren't causing any trouble."
Officers are working with the National Trust to step up patrols in the area.